December 1, 2023 - December 3, 2023 5:00 pm
701 Allen Ave, Centralia, WA 98531
InfernaLAN Winter Carnival
December 1st-3rd, 2023
Join us for a bring-your-own-computer LAN door prizes, contests, tournaments, and
freeplay computers!
Want to help make the next event the best it can be? We're always happy to have more volunteers!
We are currently looking specifically for someone who's interested in running table top game play sessions.
Location
NW Sportshub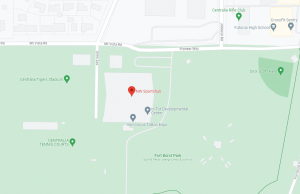 Charity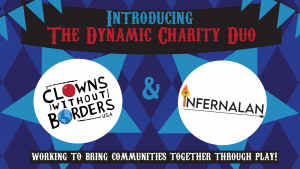 Proceeds from this event go to benefit Clowns Without Border!
Clowns Without Borders (CWB – USA) offers joy and laughter to relieve the suffering of all persons, especially children, who live in areas of crisis including refugee camps, conflict zones and territories in situations of emergency.
Tickets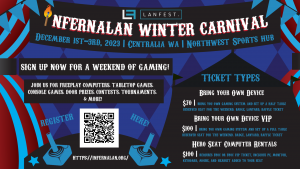 If you're under 18, be sure to select the "Youth" ticket type to save $10!
BYOC – $60 (Early bird – Ends October 20th) / $70 (General)
Access to all activities and LAN tournaments
Access to sleeping area
Half table space (~48″ x 30″)
Folding chair
2 power plugs
Door prize drawing entry
BYOC: VIP – $90 (Early bird – Ends October 20th) / $100 (General)
Access to all activities and LAN tournaments
Access to sleeping area
Full table space (~60″ x 30″)
Folding chair
3 power plugs
Door prize drawing entry
Standard Ticket – $5 suggested donation
Only available at door.
Access to freeplay computers, board games, consoles, and vendors. Does not include door prize entry.
Add-ons
Computer Rental – $90
PC, monitor (144hz), keyboard, mouse, headset, and ethernet
Monitor Rental – $20
ViewSonic 24 inch 1080P 144hz+
Magic: The Gather Draft – $15
Entry into the Magic: The Gathering Draft competition
Tournaments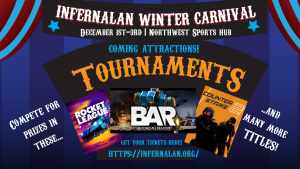 Events
Door Prize Drawing
Stick around till Sunday at 3PM to see if you win a prize!
Activities
Board Games
Over 200+ board games to play with your friends
Freeplay PCs
Several PC's with a large selection of pre-installed games available to play for free.
Hotel & Lodging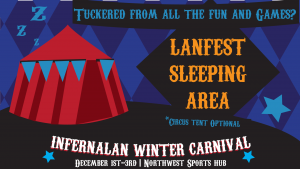 We have indoor space available for you to bring your cot, hammock, air mattress, or sleeping bag! There are no showers currently available at the venue, so please plan accordingly.
For those that are driving to the event, there is free day and overnight parking. However overnight RV parking is not allowed at the venue.
If you'd like to bring your RV we'd recommend parking at the Southwest Washington Fairgrounds: $30-$35 a night and only a 10 minute drive from the venue.
Some alternative RV sites suggested by the Centralia Parks & Recreation department can be found here.
Dining
While we understand the convenience of having food delivered, ordering food to the venue is 
not
 allowed (GrubHub, DoorDash, etc.). Attendees are encouraged to eat at either the on-site restaurant or one of the many restaurants
nearby
.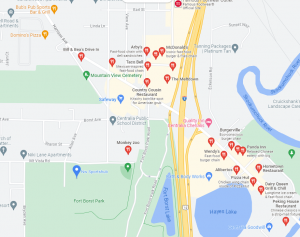 LANFest Discord
InfernaLAN Discord