I attended my first local LANFest in 2009, which is the earliest one I have a record of. Back then, I was just like any other gamer, a bit of an introvert. I joined the event, but I didn't really engage with anyone and focused on playing the games I wanted and participating in a few tournaments. It was like a mini-vacation for me, a weekend getaway where I could enjoy uninterrupted gaming and complete the games I wanted to play. The atmosphere was incredible, and I absolutely loved the energy.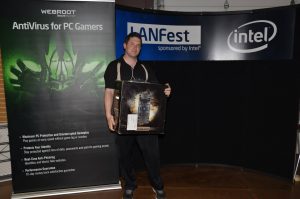 I continued this way until around 2018 when I happened to be buying a hoodie from our chapter administrator. In a casual conversation, I mentioned how amazing it would be to have virtual reality (VR) at the event. To my surprise, he thought it was a fantastic idea and invited me to join the staff. The following year, I became part of the team and dedicated myself to getting people excited about VR. I even brought on an additional team member, and it was an incredibly rewarding experience.
Then, in 2020, there was a situation where our tournament administrator was unavailable. The chapter administrator approached me and asked if I could step into that role. I happily accepted the challenge, broadening my horizons in the process.
And then, in 2021, our chapter administrator faced some significant life events, including marriage and having children, which led him to step back from organizing the event. To my surprise and delight, he approached me and asked if I would be interested in taking over the reins. Can you imagine that? Me, a random person at the event, now in charge of running it. It was a humbling and truly exciting moment for me.
Running events for LANFest has provided me with invaluable skills that I wouldn't have acquired otherwise. I now organize non-gaming events as well, drawing upon the event management, budgeting, personnel management, and organizational skills I developed through LANFest. Despite my introverted nature, being thrust into the spotlight has forced me to overcome my shyness and emerge as a leader.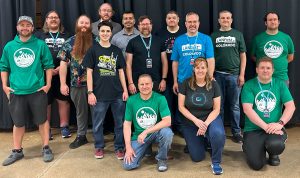 I am immensely grateful to LANFest and all the people involved for their unwavering support and the opportunities they have provided me. Without the amazing individuals in this organization, I wouldn't be where I am today.
Story By: Jacob Anderson, LANFest Colorado Chapter Admin
About LANFest and Your LANFest Story Campaign
In 2002, a group of 20 people got together to play video games at the Intel campus in Washington State. This was the first LAN (Local Area Network) party that LANFest hosted. This small group soon became 700 people at the first site, spanned across several states at multiple sites, and now has over 400 volunteers helping build healthy communities across the US. LANFest discovered a deep sense of community that can be found in all types of gaming; PC, console, VR, tabletop, and mobile.
Over 20 years later, LANFest now spans 16 states with 21 chapters. LANFest chapters are composed of local volunteers working to build healthy communities through gaming for everyone. You can expect to see families playing together at a LANFest event, educational panels and workshops, and fundraising for local charities. With more than 4 million volunteer hours and 21 years of gaming, LANFest strives to build healthy communities through gaming.
Want to share Your LANFest Story? Learn more about our newest LANFest Fundraiser, LANs ACROSS AMERICA and share your story by visiting the page linked HERE!