| | |
| --- | --- |
| Emerald City | Emerald City LANFest Expo |
Emerald City LANFest Expo 2020 has been rescheduled until August 28th - 30th due to health and safety concerns.

It will still be a Friday 10:00am to Sunday 6:00pm at the Angel of the Winds Arena - Edward D. Hansen Conference Center in Everett, Washington.
The event runs overnight both days, with an equipment lockdown from 7pm - 10am each night (no equipment may be removed).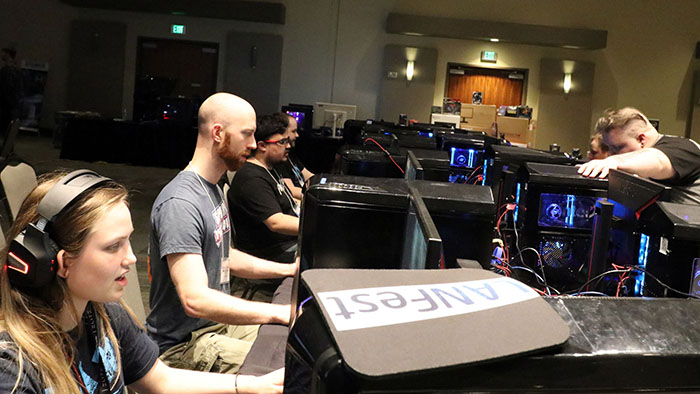 Be prepared for a full scale LAN party unchained and unfettered - true Emerald City LAN Style just like the garage LANs of yore. There'll be pizza, soda, and some friendly competition. We'll be running the usual smattering of tournaments and giving away a ton of the best prizes in our famous prize drawing from PC components to accessories. Come prepared for your favorite games as well as our mix of unorthodox tournaments and unofficial after-parties. See you there!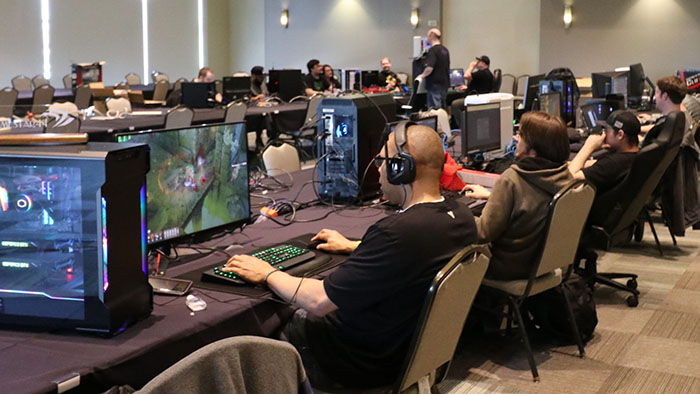 Never been to a B.Y.O.C.? A "Bring Your Own Computer" LAN party is an event where gamers come together with their own computers to play video games in a live environment with friends. LAN parties are a part of gaming culture. They're a great chance to meet new people, and share your passion for gaming with fellow enthusiasts. Purchasing a ticket for the LAN gets you a prize drawing ticket, 2 slices of pizza, a soda, a seat, table space, power, and internet access.
For assistance with registration issues, refunds, and BYOC seats, please open a Support Ticket
Event Schedule is TBA, but suffice to say we'll be playing any and all games all weekend!
What to bring:
For everyone:
Your receipt, provided via email after you purchase your ticket (printed or mobile)
Your ID / Driver's License to access the loading area
Signed Waiver (if you are under 18, your legal guardian needs to sign the waiver).
If you are 15 and under, you must be accompanied by a legal guardian for the entire event.
For BYOC attendees, please bring:
Your seating selection registration (mobile)
Computer and display (or laptop)
Headphones (speakers are not allowed)
LONG Network cable (25ft)
Power and Video Cables for both Display and Computer
Mouse and Keyboard and/or Joystick/GamePad
Mousepad

Power Restrictions:
Two (2) sockets (desktop and monitor) for a combined current of 3.0A maximum. Anything beyond a computer and monitor has to be approved by the admins.
VIP's will have access to Four (4) sockets (desktop, monitor(s), LED accessories) for a combined current of 6.0A maximum. Anything beyond computer accessories has to be approved by the admins (no space heaters, fridges etc.)

What not to bring:
Surge Protectors (We provide them, you will not be allowed to use your own)
More than 2 powered devices, unless you purchase a second seat or premium seat
Sofas, Recliners, Futons, and other large Furniture of the sort
Drugs, Alcohol, Weapons, etc.
A bad attitude
Failure to follow these rules is grounds for dismissal from the event at the admin discretion.
Important Information For Those Under 18
For those of you planning to attend LANFest (sponsored by Intel) who are 16 or 17, please download, print, and have your legal guardian complete the LANFest Disclaimer and Legal Form. You must present this completed form at LANFest check-in in order to participate. Don't forget!
Note: Children age 15 and under must be accompanied by a legal guardian for the entire event.
BYOC Seat Reservation How To
BYOC Seats can only be reserved after your payment has been received and your balance reaches $0.00. If there is a seat you want at the event, make sure you pay your balance using the Paypal banners on the registration page.
IMPORTANT: Your place at LANFest is confirmed only when you have both paid AND selected your seat. Seats are available on a first to reserve basis. Payment alone does not confirm your seat.
*If you experience an issue or have questions, Most support tickets are resolved within 24 hours of being submitted.
FAQ
Is outside food & drink allowed?
You can only bring in a water bottle - this is a venue policy, unfortunately.
So for VIP tickets, can we sit with our friends?
We don't have the website functionality at this moment to swap seats between VIP and not, so go ahead and buy a full VIP seat (Z area) and put in a support ticket to have it moved. /support/new-ticket
Is there going to be a place for folks to park for the entire weekend?
Yes, there is an unload area (10m limit) and parking available. Cost is estimated at $15 or less for the duration of the event.
Is there a prize pool?
TBD.
What is the equipment and security policy for the show?
All show attendees will be required to present ID to security to move equipment during regular hours. During equipment lockdown (7pm - 10am), no equipment may be moved. Equipment includes everything that is not a personal bag (purse/backpack). All bags are open to inspection at entrances / exits.
How are walk-up registrations handled?
The front desk will be available 2p - 7p Friday, 7am - 7pm Saturday.
What games will probably be played in events?
Most of the event will be unstructured free play, with organized events in-between. Players use our Discord to find others to play with. The organized events are either Free to Play or one of the most popular games among attendees, and often have ticket prizing. We are aiming for at least one cash prize tournament, details TBA.
What if I have allergies or dietary restrictions?
There is a field when buying a ticket to specify any concerns, and we will attempt to get an alternative meal available. We're a charity on a very restricted budget though, so expect to want to visit the neighboring restaurants as another option.
How can I get the "Attendee" flair on Discord if I'm attending the LAN?
Attendee flair is updated every 24hrs or so. As long as we can match your Discord name in this server to the Discord Flair text field on the ticket, you'll see it soon!