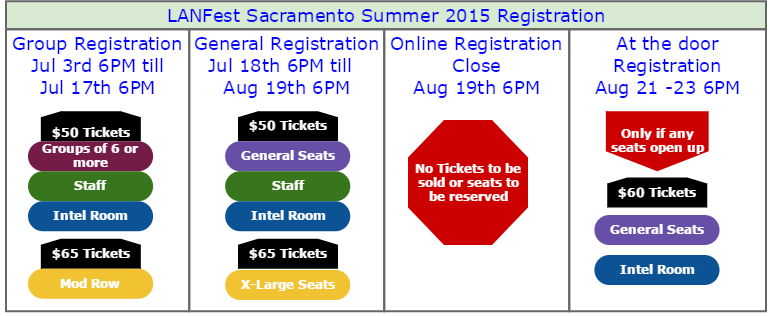 MOD ROW is FULL. Thanks for your interest.
Hey Modders,
Show off your modding skills better at LANFest! Mod Row is back again for this event. Mod Row are special seats in the BYOC that have an extra 3 feet of attached table space. These seats are up front close to the action at LANFest near the Vendor Booths. And will give your mod the prominence to really show off this spring. The Mod Row seats are very limited and are seat number I1, J1, K1, L1, M1, and N1. Find Mod Row in the Seating Layout in the purple shaded section. These seats cost $65 and are only for verifiable modders for the first part of registration.

To request a seat on Mod Row, simply send an email to our Website Event Support Coordinator Isaac.Johnson@lfest.org with subject "Mod Row".
With at least one photo of your Modded system that includes a piece of paper or sign that has your email address on it. The photo(s) need to be clear as possible, and will be checked by our staff. The email address needs to match the email you send the request from and your account on our site. Include which exact seat you want and your LANFest.intel.com user name. Example: ForceRun Seat I1. The coordinator will send you instructions to pay for the ticket he assigns to you, then move you into Mod Row once the ticket is paid for.

Please note Mod Row seats DO NOT include extra power, but have extra attached table space and a great location at the event. These seats are available during both Group Registration and start of General Open Registration. Mod Row seats are on a first come first serve basis, as the seats are extremely limited, act now to request yours.

LANFest Sacramento Staff is excited about our growing Modder Community, and want to support you in all ways possible. Please help us make Mod Row a valuable addition to our events, and thank you for choosing LANFest Sacramento.