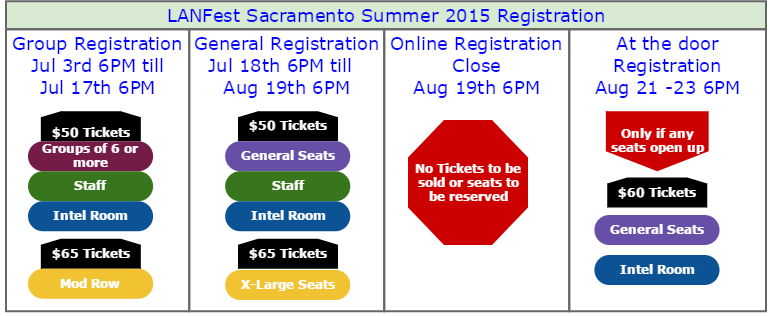 Registration for this event will start with two weeks of Group Registration before General registration is open. During group registration the following groups may register for the event: Community Groups of 6 or more, Modder Row attendees, Intel employee attendees, and LANFest Staff. Community Group Seating is a simple way for groups to seats together at LANFest, which sells out so quickly. The basic requirements for group seating is to buy at least 6 seats, and have the group members pay for their seats within the time that registration is open for Group Registration.
Group Registration is open for two week from July 3rd 6PM till July 17th 6PM, and limited to 110 total seats. Reservations are first come first serve, and no more request will be accept after the total allowed seats are reserved. Reserved seats will be opened for general registration if not claimed by the end of Group Registration, no exceptions.
Groups that wish to request reserved seating need to follow these three simple steps:
Email Isaac.johnson@lfest.org your group's seat block location request, and must have all of group's usernames.
Group members purchase assigned tickets.
Once fully paid, email the Coordinator your groups members seating location request.
Limit the number of emails to the coordinator to only the few that are strictly necessary for your group's request. This will help him maintain the bandwidth to process the many request coming in during the registration time. Group registration is a privilege for groups that are well organized and can communicate clearly; not for individual wishing to just register early. Any group that emails excessively or seeks to game the system will lose their reservation.
The following is more information on each step:
Have your Group Leader, pick one member to act as the sole point of contact with LANFest, email

Isaac.Johnson@lfest.org

our Website Event Support Coordinator, and request a block of seats from the BYOC area. A valid request includes the usernames, and not just a block of seats. One username can have no more than three seats assigned.

You may view the current Seating Chart once the event site is live. Please note any seats in Red are not available, and are already reserved for another group or other type of seating. Also there are areas that are reserved for staff in the yellow and blue sections.
Your group's request should have the specific seats that are requested, such as A1-A6. Seat Block request are first come first serve. Also include the exact usernames for the LANFest.intel.com site of your group members, and which if any are getting multiple seats. User names must be exact as LANFest has many accounts to sort through. Once the group request has been processed the group members then will be added to the reserved unpaid ticket pool. They are then able to log in to the site and pay for their tickets. If you have anyone purchasing tickets for someone else include which account is paying for which account, so the tickets can be assigned accordingly.

Reserved Seating Block request form example.

Group Leaders user name: ForceRun
Seat Block requested: A1-A6
Group Members Usernames: ForceRun, Stealth5706, …

Contact your group members and encourage them pay for their tickets. Cost is the same as open general registration ($50), and collect from your group members what seat out of the Reserved Block they want.

Once ALL the group members that want to pay have bought their tickets. Email the coordinator again with a list of group member usernames with seat numbers. Example ForceRun = A1, Stealth5706=A3-A4, … Once your groups request is processed the tickets will shortly be moved to seats. After everyone in your group is seated, the seats will no longer be reserved, allowing you to make any further seat changes yourself. If you have any issues please email the coordinator immediately.

If any seat moves are required after Group Registration closes, members can use their 'My Account' features to move into open seats. Or both group members can submit a support ticket to switch seats with each other.
LANFest Sacramento staff has worked hard to make group seating available and easy to sign up for. Group registration request are request only, and not a promise of service or goods.
Attendees must buy their tickets and select a seat to guarantee their seat at the event. Please help us make this process work, and thank you to our wonderful LANFest community that makes our events so fun!