| | |
| --- | --- |
| LANFest Chicago | Turkey LAN |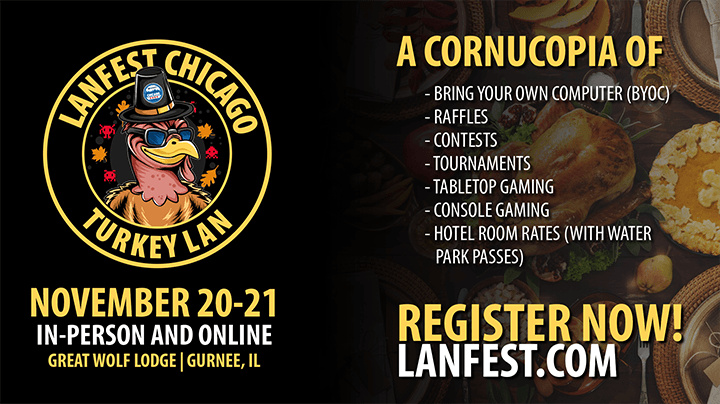 Turkey LAN 2021

LANFest Chicago is holding their next in-person LAN event on November 20-21 (Saturday 9am – Sunday 6pm) at the Great Wolf Lodge in Gurnee, Illinois.
Our event will also be welcoming online participants throughout the event. The event is free to attend online, but if you want to be eligible for raffles, prizes, tournaments and contests, a Standard Online Ticket will need to be purchased.
The event is themed around Thanksgiving so we present to you the "Turkey Tribute LAN."

Join in on the fun here: http://discord.gg/LANFestChicago

Ticket Information

Please select a seat below or you can also purchase Online Ticket below as well:

Get Your Ticket NOW!

Saturday

Sunday

Contests

Online:

Count to 3,000 (on Discord)
Trivia (on Discord)

In-person:

Mystery Box Challenge
One Night Ultimate Werewolf (card game)

Contests

Online:

MS Paint Art Showdown (on Discord)

In-person:

Bottle Flip Challenge
Paper Airplane Contest

Tournaments

Tournaments
Other casual gameplay games:
Hotel Information

Room Rate: $179 a night for the Family Suite, 2 Queen Beds and Full Sleeper Sofa, Max Occupancy 4. Each additional person is $50 per room, per night.

Resort Fee: Great Wolf Lodge charges a daily fee of $9.99 on all occupied rooms which enables us to provide services to our guests that, in the past, may have carried a separate charge. These are items our guests have frequently requested and are now included as part of the Resort Fee. These services include unlimited access to high speed, wireless internet service; local and outgoing 800 telephone calls; in-room coffee, unlimited access to Iron Horse Fitness Center, both including and outgoing facsimile message service, parking and life jackets and towels in the water park.

Method of Reservation: Each room is reserved on an individual bases by a guest by calling Great Wolf Customer Contact Center at 844-485-9653 or visiting www.greatwolf.com by 10-26-2021. Each caller must identify themselves as a member of the group with Block Offer Code: 2021LAN, and provide the first night's room and tax as deposit using a major credit card. Each room has up to 72 hours prior to check-in to cancel the individual room. If the room is cancelled within 72 hours of check-in, 100% of the first room night plus tax will be charged to the credit card or taken from the deposit, as applicable.

COVID-19 Safety Information

Attendee and staff safety are of the utmost importance to us.
We will follow all Local and Venue COVID-19 safety procedues.
Current Great Wolf Lodge policy: https://www.greatwolf.com/illinois/health-and-safety
Please stay home if anyone in your party recently experienced a fever, ailment, or any symptoms consistent with COVID-19.

Get Your Ticket NOW!

Interested in Sponsorship Opportunities?

There are several ways you can support our cause:


Become a monetary sponsor – We are a charity event so the more money we bring in, the more we are able to provide to the charities we support!

Donate in-kind gifts for raffles – We incentivize our food drive with raffle tickets, so the more raffle prizes we have to give away, the more donations we're likely to get!

Donate in-kind gifts for event infrastructure – With a high-tech event like this, infrastructure can be expensive. Our biggest need is extension cables (25', 50', 75', 100', 12-14 gauge) and power strips.

Donate in-kind gifts/services for event use – This could be custom-printed signage, photobooths, custom merchandise, etc.

Questions? Email: [email protected] (or) [email protected]