| | |
| --- | --- |
| LANAllNight | LAN all NIGHT: Dallas - The Silence of the LANs |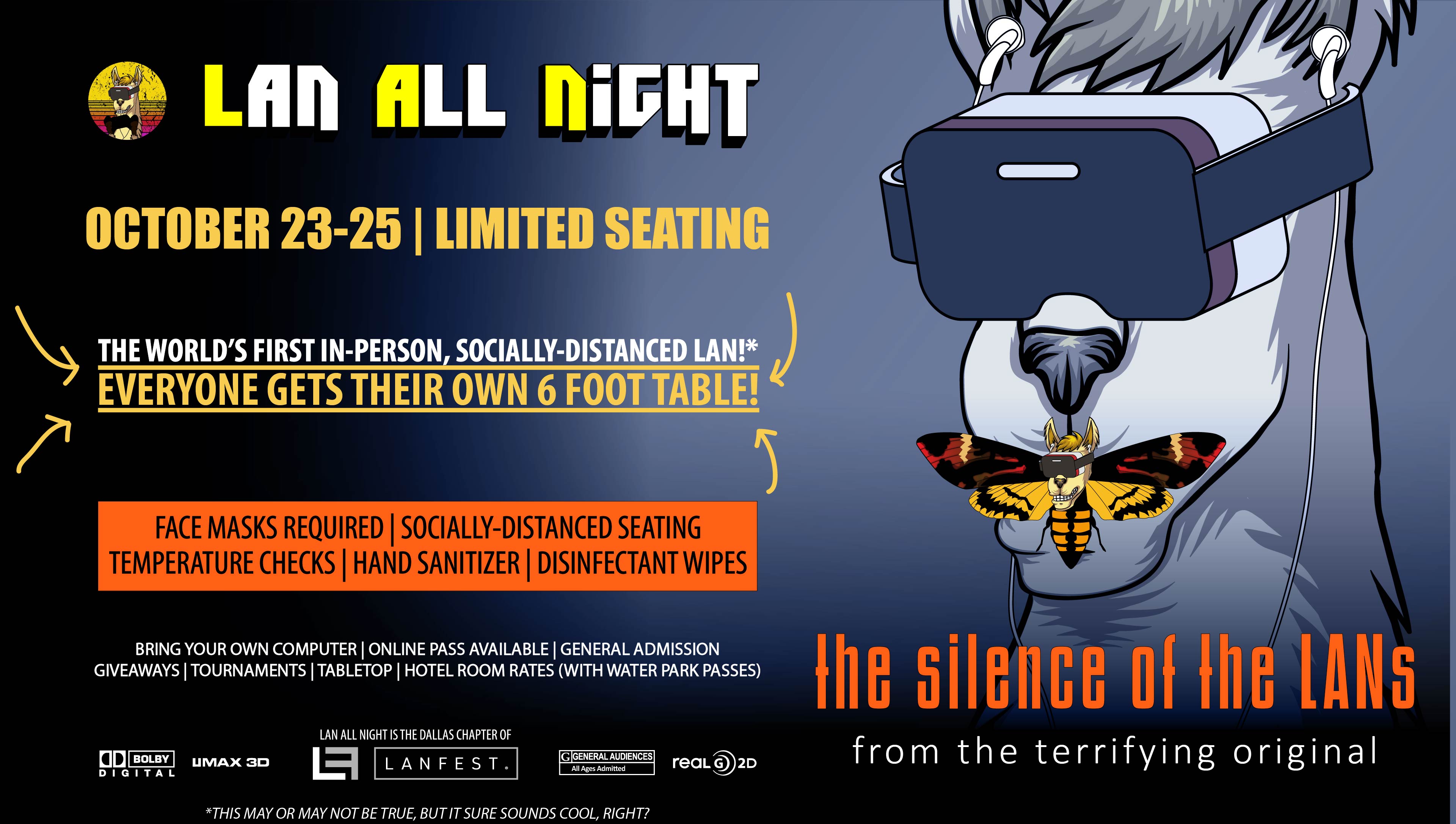 LAN all NIght to Hold in-Person, Socially-Distanced LAN Party October 23-25 Benefiting Helping Hands of Rockwall County
LAN all NIGHT Gaming Festival is holding their next in-person, socially-distanced LAN October 23-25 at the Great Wolf Lodge in Grapevine, Texas benefiting Helping Hands of Rockwall County.
The event is themed "The Silence of the LANs" to fit with a Halloween theme.
Visit LANallNIGHT.com to register and learn more!
Safety is our Number One Priority
Attendee and staff safety are of the utmost important to us, which is why we are taking the following precautions:
Face masks are required

Socially-distanced seating - Everyone will be seated 6' apart. Everyone will have a 6' table to themselves!

We will provide hand sanitizer

We will provide sanitizing wipes

We will be doing temperature checks at registration

No general admission tickets for this event in order to maintain social distancing

No walk-up-and play computers to limit shared surfaces
Ticket Information
This will be a hybrid event, meaning it will be held both in-person and online. If you don't want to go in person, but you want to participate online and still be eligible for raffles and tournaments, you can buy an online-only pass.
In-Person Reserved Bring Your Own Computer (BYOC) Seat - $75

In-Person Reserved Tabletop Seat - $25

Online Only Ticket - $20 (includes raffle and access to all tournaments)

Individual Tournament Ticket - $5 (No Raffle ticket, but eliglble to win tournament prize)
Limited in-person seating available. Act now!
Hotel room rates available at $150 a night. The code to book a room at that rate will be released soon.
Raising Money for Charity
We're raising money from now through the end of the event. There are two ways you can support the event:
Donate

- Give a one-time or recurring donation to directly support charity

Fundraise

- Create a fundraiser and get your friends and family to donate to it
Community Food Drive
Between October 1-23, we're asking community groups to collect food items and drop them off at our food drive October 23 or 24.
All food donated will go to North Texas Food Bank.
If you're interested in helping families in need, sign up at LANallNIGHT.com/FoodDrive.
These are their most-needed items: Canned fruit in juice, Peanut Butter, Cereal bars and Canned Tuna.
Founded in 1982, the North Texas Food Bank is a nonprofit hunger relief organization that distributes donated, purchased and prepared foods through a network of more than 200 Partner Agencies in 13 counties. NTFB.org.
Interested in Sponsorship Opportunities?
There are several ways you can support our cause:
Become a monetary sponsor - We are a charity event so the more money we bring in, the more we are able to provide to the charities we support!

Donate in-kind gifts for raffles - We incentivize our food drive with raffle tickets, so the more raffle prizes we have to give away, the more donations we're likely to get!

Donate in-kind gifts for event infrastructure - With a high-tech event like this, infrastructure can be expensive. Our biggest need is extension cables (25', 50', 75', 100', 12-14 gauge) and power strips.

Donate in-kind gifts/services for event use - This could be custom-printed signage, photobooths, custom merchandise, etc.
Questions? Email info@LANallNIGHT.com.
Visit LANallNIGHT.com to register and learn more!